Deep-winter Greenhouse built in West Duluth!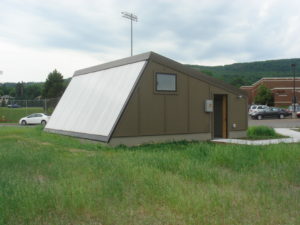 What is Let it Grow?
"Let it Grow" refers to a variety of tactics that the JLD is employing to help address food-insecurity in the Twin Ports.
Vision Statement
Junior League of Duluth's goal is to build a coalition of Community Partners with shared vision and resources to establish a food secure community through empowerment, enrichment and education.
Tactic #1: Building a Deep-Winter Greenhouse as part of a the Transformation of a corner of West Duluth

A Deep-Winter Greenhouse, Outdoor Classroom, and Neighborhood Gathering Space are being built and will be used in the winter of 2018-19.
Partners
JLD is working with our community partners—the City of Duluth, Zeitgeist Center for Arts and Community, and Community Action Duluth—to transform an underutilized lot in West Duluth by building a deep-winter greenhouse,  outdoor classroom, and open community green space (at 45th Ave West & Grand Avenue). The adjacent lot houses a Duluth Community Garden Program site built in the summer of 2016.  http://duluthcommunitygarden.org/
Function
The greenhouse  will be owned by the City of Duluth and operated by Community Action Duluth's Seeds of Success (SoS). SoS "helps unemployed Duluthians attain economic stability by providing them with transitional employment growing vegetables in vacant lots." http://www.communityactionduluth.org/seeds/
SoS currently addresses food access concerns in a USDA-designated food desert by selling their produce at the Lincoln Park Farmer's Market and makes it more affordable by offering up to $15 a week in a SNAP matching program.
Deep-winter greenhouses are designed to maximize vegetable production in the depths of winter, while maintaining a low carbon footprint and low operational costs. The hope is that this deep-winter greenhouse will be the first of many built in our community. The hoop-house offers a way to diversify the produce grown to appeal to a market for "heat-loving" crops that do not thrive in this climate.
Site preparation and building are completed; the deep-winter greenhouse will be up and running for winter 2017-18.
Thank-you to our funders
Junior League of Duluth
Healthy Duluth Area Coalition
Essentia Health Foundation
Lloyd K. Johnson Foundation
Maurices
The Whole Food Coop
MN Power
The Twin Ports Community!