New Member Social on October 13th – Join Us for Yoga & Happy Hour!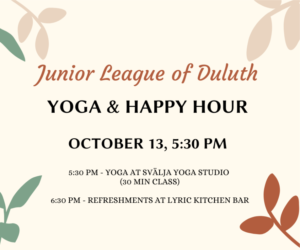 Are you interested in joining Junior League of Duluth? Please join us for a fun evening on October 13th! The event is free and open to women in the Twin Ports who are 21 years or older.  It will be a great opportunity to learn more about JLD and meet current members. Please email newmember@juniorleagueduluth.org if you have any questions or for more information.
We look forward to meeting you!
5:30 PM – Relaxing 30-minute yoga class at Svälja Yoga Studio (16 1/2 N 1st Ave W, Duluth, MN 55802)
6:30 PM – Refreshments at Lyric Kitchen Bar (205 W Superior St, Duluth, MN 55802)