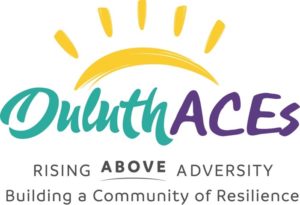 The Full Program and Zoom links can be found here: Building Resilience Summit Program
Thank you for joining us today to learn about building a community of resiliency!
This Summit is a grass roots effort by the Duluth ACEs Interest Group. The group is comprised 20 or so professionals and ACEs impacted people in the Duluth area whose collective mission is to reduce the instances of childhood adversity and their impacts in the Twin Ports. Our vision is to be a catalyst for awareness around childhood adversity and lay the foundation for community resiliency. Since 2018, Duluth ACEs has offered a number of educational sessions and events building up to the Summit. The Summit is not a "one and done" event, as Duluth ACEs will continue to coordinate educational opportunities so that, as a community, we can learn together from experts and share best practices. A special shout out to our primary sponsors for their support who made this all possible:

Promotional Services donated by Greenfield Communications. 
Prior to attending the Summit, we suggest that you watch Dr. Nadine Burke Harris's TED Talk. Her talk is a primary source of inspiration for the creation of the DuluthACEs Interest Group and for launching a movement here in our region. Nadine Burke Harris: How childhood trauma affects health across a lifetime | TED Talk
Your commitment to attending a day-long event on a Saturday is to be applauded.The past two years dealing with a pandemic have tested all of us in unimaginable ways leaving many of us weary. It is our hope that attending the summit will offer some level of renewal and hope and at the end of the day you feel energized by the depth, breath and compassion of Dr. Perry's research and the information provided in the breakout sessions. We look forward to our time together and learning as a community in service of humanity. Duluth ACEs Interest Group
8:45 a.m.- 10:45 a.m.: Welcome & Keynote Address: Dr. Bruce Perry
Passcode: f1YXQ3