A Very Different Year for the Lerri Buska Cookie Club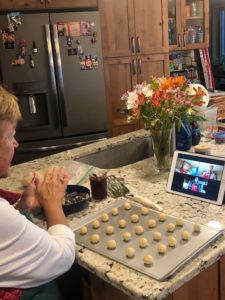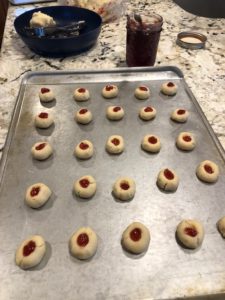 By Denise Bussa
2020 saw a virtual cookie baking day for the Lerri Buska Cookie Club.  In a normal year the Cookie Club would meet together on a designated day in December and bake cookies from early morning until dark.  It helped that I've always had a double oven so we could bake 2-3 kinds of cookies at a time. We would also bake some cookies individually and share those, either on baking day or afterwards. But, as with many other of life's observances and celebrations, 2020 had us baking together yet apart. How grateful we are for Zoom in our lives!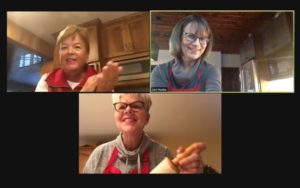 The Lerri Buska Cookie Club started in 2006, making 2020 our 15th year of baking together.  Having met each other as members in the Junior League of Duluth, Kerri Fellman, Lori Huska and myself learned over time that we had a love for baking cookies, specifically Christmas cookies. Kerri and I joined the Junior League of Duluth together in 1992 when Lori, who joined the Junior League of Duluth in 1988, was one of our "provisional chairs".
In 2006 the three of us put our heads together and decided to bake Christmas cookies together, expanding the variety of cookies we'd each have to use at the holidays.  I used to throw a holiday party and welcomed that large variety of cookies to serve. A few years into the group baking, the name "Lerri Buska Cookie Club" was born. This may have occurred  at the end of the day one year as we enjoyed a celebratory glass of wine.
Over the years there have been 36 varieties of cookies made, although not all in the same year.  A few kinds, Raspberry Almond Butter Thumbprints, Santa's Whiskers and Danish Sugar cookies, have been made every year.  Another 4 kinds have been made 13 or 14 years: Melting Moments, Pepparkakor, Almond Windmills and Spritz. The two recipes featured here, Raspberry Almond Butter Thumbprints and Pepparkakor, are from the 1999 Festival of Trees Cookbook, Treasured Recipes.  There were many cookies we didn't repeat after one or two years, mainly because they did not become a family favorite.  We definitely loved rosettes and mastered them so that they were beautiful delicate cookies. None of us wanted to make them in our homes after a year or two because the smell of oil lingered for days.
The recipe for Raspberry Almond Thumbprints came from a cookie exchange Denise was part of a few years before the inception of the Cookie Club.  It has been a family favorite every year.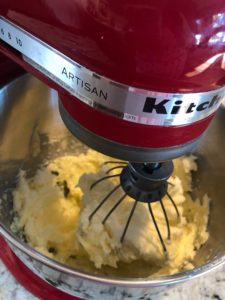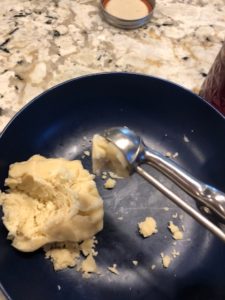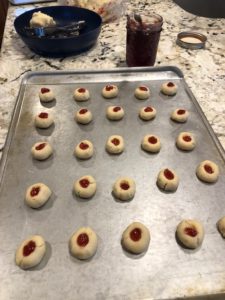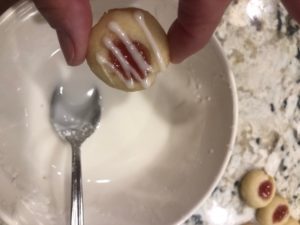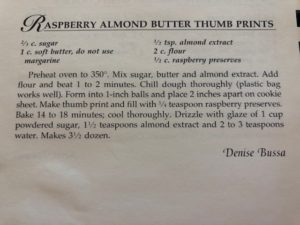 The recipe for Pepparkakor was from Kerri Fellman's grandmother.  Pepparkakor are often known as "Swedish Wish Cookies". Kerri said that the recipe published in the Festival of Trees Cookbook omitted the Swedish folklore that goes along with the cookie.  That folklore goes like this –"Cut the rolled dough with a heart shaped cookie cutter. Bake and cool.  Before eating, place the cookie flat in the palm of one hand.  Make a wish and tap the cookie with a finger on your other hand.  If the cookie breaks in exactly 3 pieces your wish should come true."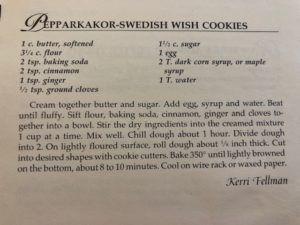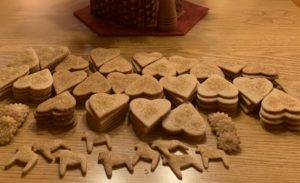 Our families have agreed that there are favorites we must bake each year. Thankfully Lori became our historian and has kept track of all of our cookies from year-to-year.  That first year, in 2006, we baked 120 dozen cookies.  We were very ambitious in 2010 and baked our most cookies, 183 dozen or 2200 cookies! That's a lot of butter, for sure!
We were pretty proud of ourselves during this unusual year when we weren't actually together.  In 2020 we baked 13 varieties of cookies for a total of 1,603 cookies or 133+ cookies.
We look forward to having the Lerri Buska Cookie Club meet in person once again.  We are hoping we can do that in 2021.