Elisabeth Congdon Lifetime Achievement Award Recipient 2021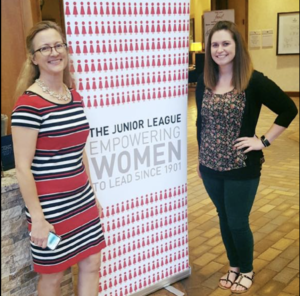 Lisa Plachta joined the Junior League of Duluth in 2012. She didn't wait long to take on a Lead role and co-chaired our primary fundraiser, the Festival of Trees in her second year. She later served as Director for both Finance and Community Councils and has remained strong on those Councils throughout her time in Junior League.
Before she went on to become our 83rd JLD President, she served as the JLD Projects Chair three years in a row and spearheaded our Let it Grow project which "wouldn't have happened without her." She visited many different Deep Winter Greenhouses for research and proved instrumental in securing a site location to address food insecurity issues. She attended lots of meetings with community partners as well as played a central role in a number of fundraising initiatives including grant writing. Under her leadership the Let it Grow Committee wrote a vision statement and created a logo. In May 2014, the Junior League of Duluth Board of Directors recognized her passion and work with the Vision Award.
Sustainer of the Year 2021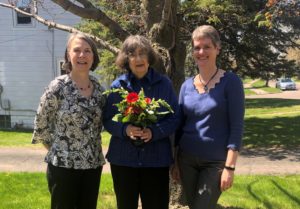 Kathryn Noble became a provisional member of the Junior League of Duluth in 1974.  She  was an active member for ten years from 1975 to going 1985.  During her active years in League, she assumed several leadership roles, including Placement Committee Assistant Chair and Chair; JLD Board member; she also was very involved with the League's Next-to-New Sale.  Also, while active, our nominee was passionate about issues relating to child abuse and social issues.
Kathryn has been very active in the community, volunteering at the St. Scholastica Monastery, where she has been very active in the planning of the Sisters' Annual Bazaar.  It appears all the years working JLD's Next-to-New Sale was channeled to the Sisters' Annual Bazaar.
She has also served as President of the College of St. Scholastica Alumni Board
Kathryn was described as generous, selfless, quiet and kind, with unassuming community involvement and support.
Elisabeth Congdon Lifetime Achievement Award Recipient 2019
Congratulations to Meagan Avery on receiving the 2019 Elisabeth Congdon Lifetime Achievement Award! Meagan joined JLD in 2012, immediately jumping into the Membership Council. Meagan has served on the council in multiple roles and has had a huge impact on JLD by recruiting several new enthusiastic members. From 2015 through 2018, Meagan went through the JLD Presidency track, attended several leadership trainings, and even brought National AJLI speaker Vicki Clark to Duluth. Meagan was selected by AJLI to represent the UNSTOPPABLE campaign and her picture can be found on the poster as well as the AJLI website. Meagan has been an amazingly enthusiastic leader and participant of JLD. Outside of JLD, Meagan has also been active in Rotary, Jaycees and has served on the board for Habitat for Humanity in Superior, WI.
Sustainer of the Year Award Recipient 2019
Congratulations to the 2019 Sustainer of the Year recipient, Gail Tate! Gail has served on the shadow board, helped with toffee breaking, and worked the Next–to–New Sale. Gail has also volunteered at her church where she has served as a wedding coordinator, child care staff in the nursery, and coordinator of Sunday hospitality. She has been active in the Duluth Lions Club for over 50 years serving as president, program chair, and pancake day chair. Always a bargain hunter looking for deals, Gail has shopped for AICHO, Safe Haven, Kids' Closet and many others. In her spare time, Gail enjoys travel, time with family, and boating on Lake Superior.
Elisabeth Congdon Lifetime Achievement Award Recipient 2018
Congratulations to the 2018 Elisabeth Congdon Lifetime Achievement awardee, Jennifer Webb! Jennifer's work with the Junior League began while she was at Bryn Mawr College completing her graduate studies. She worked part-time at the Junior League of Philadelphia's Thrift Shop and when she accepted a full-time position at UMD, became a member of the Junior League of Duluth.
Over the course of her Junior League tenure, Jennifer has taken on numerous roles with the organization and at the AJLI level. She stepped into a leadership role her first year in JLD and didn't look back! Jennifer has served in a leadership capacity on almost every council in JLD and volunteered for a position on an AJLI ad hoc committee to develop sustainer engagement throughout the Leagues. In 2015–2016, she led the Junior League of Duluth as its President and worked to continue the Issue Based Community Impact initiative focusing on food insecurity in our community. After her tenure as JLD President, she took on the role as the 'Let it Grow' project lead and was instrumental in working with our community partners to build the Deep Winter Greenhouse!
Jennifer's commitment to the Twin Ports community does not stop with the Junior League. She serves on the boards of the Duluth Art Institute and Glensheen and is the first to volunteer with other community organizations working to better our community. Jennifer is true example of a servant leader and we are proud to call her a Junior League of Duluth member!
Sustainer of the Year Award Recipient 2018
Elaine Killen was awarded 2018 Sustainer of the Year. Everyone enjoyed hearing of all Elaine's accomplishments and volunteer activities including: providing fantastic fundraising for the symphony orchestra, volunteering at the Tweed Museum at UMD, acting as President of the Lawyer Advocates of Minnesota and chair of women's activities for the Minnesota Bar Association conventions; and lobbying for the Arrowhead Juvenile Center in Duluth. Elain says, "My volunteer work over the years has been motivated by what I learned in Junior League. From Girl Scouts to PTA to church and Symphony – it always hearkens back to my Junior League training."
Elisabeth Congdon Lifetime Achievement Award Recipient 2017
Leslie Brunfelt was awarded the 2017 Elisabeth Congdon Lifetime Achievement Award at the JLD's Annual Dinner on May 16. During her active career in JLD, she has been a leader in many different roles including Training and Education Lead, Nominating and Placement Advisor, Endowment Committee member, two-time Finance Council Director and four-time Treasurer. Leslie's dedication to budgeting has played a large role in helping the JLD flourish in recent years. As Nominating and Placement Advisor, she has been instrumental in guiding and mentoring many members through their own personal JLD journey. Since 2008, many JLD members have been inspired by her commitment and devotion to Junior League. Congratulations Leslie! Thank you for your passion and commitment to the mission of the JLD.
Sustainer of the Year Award Recipient 2017
Sherry DeWulf was awarded 2017 Sustainer of the Year at the JLD's Annual Dinner on May 16.
Sherry was on the Finance Council several times, according to Denise Bussa and Susan Johnson, who both think they taught Sherry everything she knows about finance. Sherry was also Communications Council Director, where she honed her communication skills! Barb Sheedy was her Board Recording Secretary when Sherry was the JLD President. Barb jokes that Sherry used those communication skills by insisting on making corrections on all of the Board minutes. Sue Murphy was Sherry's President-Elect and thought she learned a lot from Sherry as her P-E including hard work, organization, communication, diversification, volunteering, being a leader and most of all being a kind and compassionate woman with integrity, brains, and dedication.
Sherry was a mentor to many including Rita Rosenberger, and she demonstrated someone who was a shining example of a truly dedicated member of JLD. Sherry simply loved "Bylaws!" Wow, she couldn't get enough of "Bylaws." Brenda Beard Connelly remembered when Sherry was the Lead for Nominating and Placement. Brenda didn't remember where she was placed, but she was sure Sherry did a great job. Sherry did a great job no matter what she worked on for JLD! JoAnn Mattson remarked on the fact that Sherry participated in so many successful projects and fundraisers that the number was too many to count. Everyone thought that Sherry chaired the plant sale fundraiser at least 20 years in a row, and she grew all of the plants in milk cartons in her yard, as well as drank all of the milk to get the empty cartons. What a gal!
Most recently, Sherry was the Sustainer Representative for JLD President, Jennifer Webb (with Katie Kuettel), and also for Cathy Wolff (with Barb Sheedy). Lisa Mandelin talked about Sherry's work on the Endowment Committee. Most likely, Sherry holds the record for most years on the Endowment Committee and even was the chair of the committee. She taught Lisa Mandelin everything she knows about endowment. So for all of the reasons above, there was no one more deserving of the 2017 JLD Sustainer of the Year award than Sherry DeWulf.