The Junior League of Duluth (JLD) funds and supports initiatives that complement its mission and vision, and addresses community need by focusing on our membership-selected impact areas.
The 2022 application period is now open.
Community Funding Process
The Junior League of Duluth provides funding to a number of local agencies and organizations that fit within our vision and mission. We welcome all submissions from area organizations.
In 2020, Junior League of Duluth granted over $52,000 to support the work of other non-profits in the Twin Ports.
Eligibility:
JLD provides financial support to registered 501(c)(3) non-profits serving the Twin Ports area.
Area of Focus:
The Junior League of Duluth (JLD) funds and supports initiatives that complement its mission and vision and addresses community need. Areas of focus for 2021 funding include but are not limited to the following:
Food Insecurity
Human Growth and Potential
Physical Fitness
Positive Self Image
Holistic Health
Parenting
Chemical Dependency
Eating Disorders
Total Wellness – Mind, Body, Spirit
Policies & Guidelines:
The Junior League of Duluth fiscal year begins July 1. We make financial gifts annually.
Applications must be submitted via the online Project Proposal Form. The funding application deadline is April 15, 2022.
Requests are reviewed based on the application criteria, including alignment with the mission of Junior League, connection to the areas of focus, and meeting the submission deadline.
Requests will be reviewed and organizations will be notified in April with funds dispersed in May.
Applications will receive a reply stating whether or not an award has been granted. Please note application deadlines and process timeline described above. Other correspondence soliciting donations will be read and considered, however only official applications are guaranteed a response.
JLD requests that grant recipients submit a project update within one year of receiving grant funds. Selected sections of the Minnesota Common Report Form are required for the project update. JLD will contact grant recipients with instructions.
Questions can be directed to community.council.jld@gmail.com
Thank you for your interest in partnering with the Junior League of Duluth.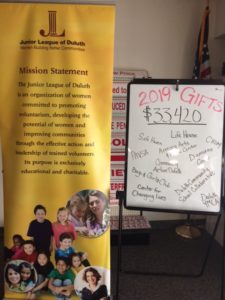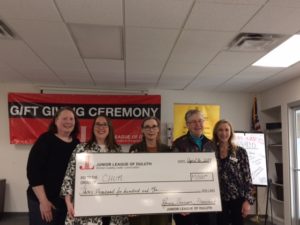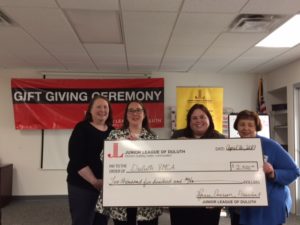 Recent Grants Awarded:
2021 Community Funding:
Due to JLD not hosting their annual Festival of Trees fundraiser the tough decision was made to not give out grant funds with general funding. The Endowment Committee was able to provide grant funds through the Endowment Fund and Dale Heimbach Wheeler Fund. This allowed the Community Council to continue the traditional granting process with some changes. Natalie Burger, funding lead did a great job pivoting as needed throughout the process. Thank you to the Endowment Committee for partnering with the Community Council for this year's granting process and decisions.
The Junior League of Duluth was able to provide $ 15,647 in grant funds to the following organizations:
JLD Membership Council – $500 for diversity, equity, and inclusion training   
CASDA – $1,000 for trauma-informed yoga program & yoga supplies   

CHUM – $2,500 for food shelf delivery program

Community Action Duluth – $3,000 for Seeds of Success – Mobile Market & EBT match program   
Damiano Center – $3,000 for produce and dairy products for community kitchen   
Duluth Community School Collaborative – $2,647 for food & hygiene product pantry

Life House – $1,500 for trauma conscious yoga program

PAVSA – $1,500 for trauma conscious yoga program
2020:
CASDA – $2,000 for meals and snacks for the shelter program
CHUM – $5,000 to stock the food shelf with fresh produce
Community Action Duluth – $5,000 for Power of Produce Club and EBT match program
Lake Superior Community Health Center – $2,975 for stocking the patient pantry with food and hygiene products
The Damiano Center – $3,000 for produce and dairy products for the Community Kitchen
Duluth Community School Collaborative – $3,000 for meals and snacks to provide at school programs
Family Forum, Inc – $1,000 for preschool nutrition program
PAVSA – $2,000 for kits of non-perishable foods to distribute to survivors and for food to provide support group attendees
Life House – $3,630 for outdoor planter project
Boys & Girls Club of the Northland – $2,000 for the Healthy Meals Program
North Country Ride – $2,500 to fund horse feeding needs
Great Lakes Aquarium – $2,000 to support the Bus Fund program
Duluth Community Garden Program – $5,000 to support communal garden program
Duluth Farmers Market – $2,000 for funding staff & terminal supplies
Leadership Duluth – Duluth Opioid – $500 for milestone gifts
Additional funding was granted to support hunger relief efforts during the COVID-19 pandemic:
Life House – $500
Damiano Center – $2,000
Second Harvest – $3,000
AICHO – $500
CHUM – $2,000
Ruby's Pantry – $1,000
Boys & Girls Club – $2,000
 2019:
CHUM – $3,500 for the gardening program at the Steve O'Neil Apartments
Duluth Community School Collaborative – $3,500 for gardening programs and health-related activities in the Duluth Public Schools
Life House – $1,500 for the Meals in A Bag Program and the Farm Food CSA
Community Action Duluth/Seeds of Success – $4,000 for the Seeds of Success program to increase access to healthy, locally grown or produced food by continuing to operate farmers markets and by offering youth free fruit and/or vegetables through the Power of Produce (PoP) Club.
PAVSA – $2,500 to provide nutritious foods and snacks to clients.
Center Changing Lives – $4,920 to purchase Ruby's Pantry shares and supplemental groceries for youth who have been homeless.
Armory Arts & Music Center – $1,000 for snacks, rent, and instructors' wages.
The Boys & Girls Club of the Northland – $2,000 for the 2019 Healthy Meals Program
Damiano Center – $3,000 for food served at the Community Kitchen
Safe Haven – $5,000 to purchase a sanitizer
Duluth Area Family YMCA – $2,500 to support the weekend backpack program at the Harbor Heights Community Center