The Community Award was created in 1997-98 with the intended purpose to annually recognize an organization that makes an impact in the community and that reflects the mission and vision of Junior League of Duluth. Award recipients include the following:
Community Award 2021
The community award is given to organizations that make an impact in the community along with reflecting the mission and vision of Junior League of Duluth. The NAACP continues to do the important work around racial justice, community health, providing education around these topics, and this last year leaned into providing the community great resources for the pandemic.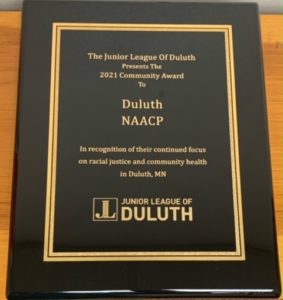 2020 Community Award
Due to the cancellation of the 2020 Annual dinner, the ceremony for the Community Award was put on hold. The 2020 Community Award was given to Community Action Duluth. Community Action Duluth continues to engage in initiatives and projects in efforts with food insecurity issues in our local community. We continue to thank them for their work along with their partnership with JLD over the years.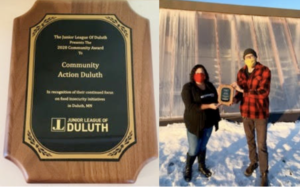 2019 American Indian Community Housing Organization (AICHO)
The AICHO honors the resiliency of Native American people by strengthening communities and centering Indigenous values in all aspects of work; providing housing and supportive services while managing arts, cultural, and food sovereignty initiatives in Duluth, MN.
2018 Damiano Center
The Mission of the Damiano Center is: "with respect and compassion, we honor the dignity of all people and strengthen our community by providing essential services to individuals and families who are in need. Our goal is to be responsive to the needs of people who are low-income, unemployed, and working poor in our community as simply and directly as possible."
Programming that responds to hunger in the Twin Ports community includes: the Community Kitchen and Kid's Kitchen.
2017  Second Harvest Northern Lakes Food Bank
Second Harvest Northern Lakes Food Bank's mission is to feed Northeastern Minnesota and Northwestern Wisconsin's hungry by rescuing and distributing food and engaging our region in the fight against hunger.
2016   Zeitgeist Center for Arts & Community
2015   Duluth Community Garden Program
2014   Life House
2013   Chester Bowl Improvement Club
2012   Seeds of Success
2011   Life House
2010   Woodland Hills
2009   Safe Haven
2008   Safe Haven
2007   Hartley Nature Center
2006   Teen Closet
2005   Women in Construction
2004   Boys and Girls Clubs of Duluth
2003   First Witness
2002   Damiano Center
2001   Little Treasures
2000   Bethany Crisis Center
1999   YWCA
1998   Domestic Abuse Intervention Project