The Junior League of Duluth in the 1940s: The War Years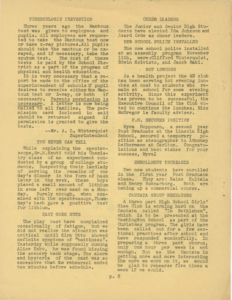 By Suzanne Rauvola, Sustaining Member
National War Programs & Operation CX
The women of the Junior League of Duluth (JLD) took an active role in national war programs while also continuing their ongoing community commitments and projects. In 1940, the Association of Junior Leagues of America (AJLA) executive committee, following the example of Canadian Junior Leagues, urged "all the U.S. Leagues to establish central volunteer bureaus as part of the defense program" (AJLI, 81). Who better to mobilize volunteers than women who volunteer and have passion for the betterment of their communities?
Following the war, the women of the Junior League of Duluth continued their valuable work in the community. They volunteered for Operation CX, organizing portable chest x-rays to combat tuberculosis. This "aggressive case finding was a large contributor to the reduction of tuberculosis in Minnesota" (MDH, 50). The Junior League also helped organize and staff hearing tests in all the city schools. Who doesn't remember wearing those big headphones and listening for the beeps?
Fundraising: The Follies & Colleen Moore's Doll House
The Junior League also raised funds, as all Junior Leagues do, to support their activities. The Follies, starring JLD members and their families, was a major fundraiser after the war. JLD also participated in a fundraising tour of Colleen Moore's Doll House. Colleen Moore was a silent film star who, at the urging of her father, created the doll house "of her dreams". During the Great Depression, she organized a national tour to raise money for children's charities. A final tour ended in 1949 at the Museum of Science & Industry in Chicago where people may still visit Colleen Moore's Fairy Castle (MSIChicago).
World War II changed the face of the world.
Women entered the workforce in unexpected ways, rationing changed how families cooked, the baby boom was underway. Junior League members would no longer be 'the sheltered young women of the pre-war years'" warned Association President Nancy Martin in 1943 (AJLI 89). The Junior League looked ahead "and when peace came, the Junior League was ready (AJLI 89). For the last 100 years, the Junior League has changed and adapted alongside our community.
Sources:
AJLI. The Junior League: 100 years of volunteer service. New York: AJLI, 2001.
Emerson, Elisabeth. (2009). Public Health is People: A History of the Minnesota Department of Health from 1949 to 1999. Minnesota Department of Health. https://www.health.state.mn.us/about/history/Chapter2.pdf.
The Original Tiny House. www.msichicago.org/explore/whats-here/exhibits/colleen-moores-fairy-castle
Image: On this page, Superintendent, W. A. L Winterquist discusses tuberculosis prevention. Thomson Township High School. 1935-11-22. "The Spotlight, Volume 2, Number 6, Thomson Township, Esko, Minnesota." Esko Historical Society, Accessed January 16, 2021. https://reflections.mndigital.org/catalog/p16022coll18:436