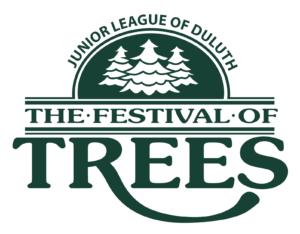 ---
2021 Festival of Trees
Saturday, November 6th – 9:00 am – 5:00 pm
Sunday, November 7th – 10:00 am – 3:00 pm
Junior League of Duluth is happy to announce that the 2021 Festival of Trees will be held November 6-7, at the Duluth Entertainment and Convention Center (DECC).
At this time, we anticipate that this well-known arts and crafts holiday celebration will carry the same spirit, excitement, gifts, and treasures that it has for years. Make sure to add it to your calendars now!
In conjunction with the DECC, we will continue to monitor and adhere to state guidelines and CDC recommendations related to the COVID-19 pandemic. The safety of all attendees, vendors and volunteers is our highest priority.
For our vendors: Thank you for your interest in the Festival of Trees! The online application is now closed. Please call the JLD office (218)-727-0341 or contact office@juniorleagueduluth.org if you have any questions.
If you are a vendor who chose to put the 2020 application fee towards your 2021 registration, we will work with you to make sure that fee is carried forward. Please contact us with any questions.
To pay online: