Creating Connection Workshop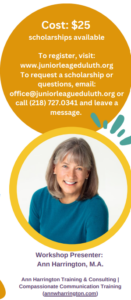 Workshop Presenter:  Ann Harrington, M.A. with Ann Harrington Training & Consulting
Location: Holiday Inn (Downtown Duluth) Great Lakes Ballroom Duluth, MN
---
Download the workshop brochure by clicking here
---
Participants will learn the basics of Nonviolent Compassionate Communication (NVC) an internationally known model of communication developed by Marshall B. Rosenberg, Ph.D.
The NVC model promotes the exchange of information between people in a way that inspires a certain 'quality of connection' that helps resolve differences. It is a model of authenticity (speaking with compassionate honesty) and also one of empathy (listening to oneself and to others). The NVC model shows us how unmet needs/values are at the core of every conflict. When we understand and acknowledge our own needs and the needs of others, we have an opportunity to lead in creating deeper connections and developing more satisfying relationships.
This interactive workshop is designed to present practical and constructive approaches for dealing with conflict and stressful relationships through authentic communication. HOW can we creatively "mine" and use our conflicts/misunderstandings for opportunities to connect? HOW can we come to mutually respectful solutions instead of allowing 'conflict-disconnection' to use us, leaving us in anger, resentment and distrust?
---
Registration is available now through September 30, 2023.
Workshop fee includes dinner with menu options of chicken, turkey, or vegetarian sandwich wraps; assorted fruit and vegetables; cheese and crackers.