JLD Thanks Our 2019 Festival of Trees Leadership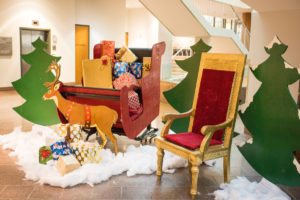 Many thanks to our 2019 Festival of Trees (FOT) event leadership: Gina Apodaca and Julie Molina
Both of these #UNSTOPPABLE women have a lot of great experience and background to bring to their roles! As newer members of JLD in 2017-2018, they jumped right in and joined the 2018 FOT Committee, Gina as the 2018 FOT Vendor Lead and Julie as the FOT Assistant Vendor Lead. In 2019, Gina will continue as the FOT Vendor Lead and Julie will move into the FOT Lead role.
The Festival of Trees is JLD's largest fundraiser. Proceeds go to support JLD and community projects. This year's Festival of Trees will be Saturday, November 16 and Sunday, November 17 at the DECC. Applications will be available in late January or early February.
Congrats, Julie and Gina!!