From the Pages of JLD Cookbooks #2: Divinity Sea Foam Candy
      by Sustaining Member Shevaun Stocker
From The Festival of Trees Treasured Recipes (1999)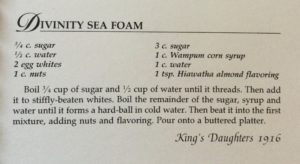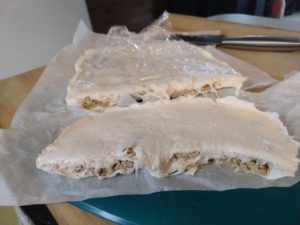 It will likely come as no surprise that I love a baking project, have been making candy for years, and am also quite curious about recipes and baking techniques that we just don't use as much in modern cooking (though am still really on the fence about aspic). Knowing this, when the opportunity to be part of this project was proposed, it came with the reminder that the cookbooks include historic recipes from our original incarnation, the King's Daughters. Well, that was that -I had found my inspiration!
A bit of history
When you pay attention to this subset of recipes, you'll see how flavor profiles and techniques have shifted (thank goodness for our stand mixers and instant-read thermometers) but also how the expectation of what a home cook should just 'know' about cooking and baking. These recipes include very few details about technique, oven settings, or baking times. In a time when a home cook would have been responsible for more frequent meals than we currently expect, and with a wider array of oven types (in the early 1900s, many homes would have still relied on wood or coal-based ovens), recipes could use fewer instructions. The home cook would just 'know' what "thread stage" is for candy-making and how long cookies would need in their own oven (and it's 223 to 235 F, if you're curious). An interesting level of detail that you don't see in modern recipes is the reference to a particular brand of ingredient (e.g., "Hiawatha almond flavoring") – I have a feeling that, prior to stricter regulations on the food industry put in place in the 1920's, the various brands would have varied more wildly in their manufacturing process and thus, the end product. Recipes likely needed to indicate exactly which brand was used so that the home cook could replicate the results – if protein levels in flour or rising agents in baking powder vary too much, you can really have a disastrous outcome.
Why Divinity Sea Foam?
There were a number of interesting options from our historic sisters, which I'm sure I will circle back to in the coming weeks, but as soon as I saw the Divinity Sea Foam, I knew I had found my perfect option. My paternal grandmother was an avid home cook and baker, from whom I learned most of what I know (and my love of the shiny, sparkly, and glittery – she directed her retirement community's kazoo band while bedecked in bold costume jewelry and a pink feather boa, but of course). At the holidays, she had a number of candy and confection treats to tempt us: fudge (and felt strongly that it must include walnuts and that those walnuts must be toasted), peanut brittle, turtles, pecan sandies, her famous chocolate chip cookies, and divinity. Over the years, I've turned out pretty good versions of al these, except the divinity (a confection that most closely resembles a fudge consistency, though a bit chewier, and is flavored with a nut – she used pecans but I've seen almonds and pistachios). The process of making divinity borrows from Italian meringues, where you whip hot sugar water into whipped egg whites, making the egg whites safe to eat and creating a marshmallow-like texture. While I've made an Italian meringue for a fantastic baked Alaska, I have still been quite intimidated this process. Nothing like a public display of my baking skills to try a newish technique and hope it holds up to Grammy's! ?
Getting started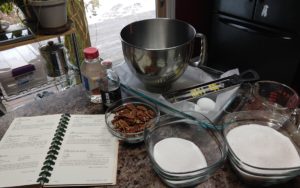 Recipe in hand, it was time to get started. I tried to really keep to the recipe, as is, but I did have to make a few adjustments. In wanting to replicate Grammy's divinity, I opted for pecans. By making that choice, I didn't want to use almond extract (worrying that they two nuts might fight each other) so went with vanilla, thanks to inspiration from a flavor-expert friend. I also had to toast the pecans – I just can't use a nut in a dessert without this; I'm not a fan of unnecessarily complicating things but it really does deepen the flavor. You'll understand that there was a real paucity in instructions for this particular candy recipe (though, thank goodness, it did have standardized measurements for ingredients – there was a time when published recipes would call for ingredients in 'tea cup' or 'saltspoon' amounts – your guess is as good as mine on that one). My years of candy making came in handy and I found the process reassuring, even though it does differ from my caramel-making.
The Results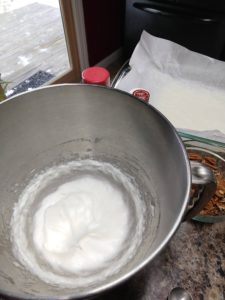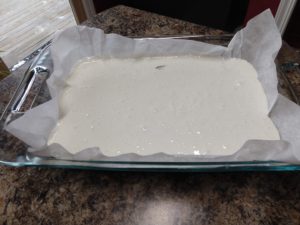 I may also have been a little too confident…as you can see from the final product, the consistency just isn't quite right. The flavor is great, and just what I remembered. However, the candy doesn't have the density and structural integrity that I would expect – it doesn't hold its shape, once cut. I'm going to have to do some recipe comparing but I'm wondering if either the sugar water should have actually gone to a higher temperature than the recipe calls for or if I should have extended how long I beat the final product. The recipe doesn't indicate timings on the incorporating of ingredients. I worried about over-beating it, not wanting to knock out the air from the whipped egg whites, but may have shown too much restraint. I remembered afterwards that when you make marshmallows, you beat them on high for up to 7 to 10 minutes. While that item relies on gelatin for its stiffness, I now wonder whether that increased air incorporation might have led to a less gooey end product.
I'd call this mostly a success – it was a delight to revisit memories of Grammy's candies and to use the 'baking challenge' part of my brain, again, especially with a historic recipe. It's been too long! So grateful for those amazing King's Daughters – our founding sisters and amazing bakers!