Junior League of Duluth awards $13,340 in grants to community non-profits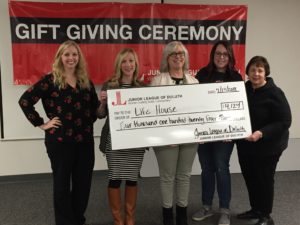 On April 17th, the Junior League of Duluth granted over $13,000 in funds to the following non-profits in the Twin Ports community:
The Junior League of Duluth provides funding to a number of local agencies and organizations that fit within our vision and mission. We are currently focusing on our membership-selected impact area: food insecurity.
Damiano Center: For healthy, perishable foods for the soup kitchen program
Duluth Community Garden Program: For two water catchment systems
First Witness: For healthy family dinners as part of the REACH Program
Life House: For the Meals in A Bag Program and to enhance the quality and nutritional value of food and meals provided to include fresh fruits and vegetables (specifically, the purchase of a local Community Supported Agriculture share during the growing season).
Girl Scouts: For the purchase of vision screening equipment, supplies used in screening and t-shirts for participants and volunteers for Walk for Sight.
Great lakes Aquarium to support the Aquarium's Bus Fund program
North Country RIDE to hire a Herd Feeder for the 2018 sesson.