When you are married to a math teacher, who can recite Pi to the 13th decimal, you feel responsible to at least bake one pie for Pi Day during your marriage. To be honest, I have never made a pie from scratch (my favorite pies are those from the Rustic Inn or from my mom), so with the pandemic giving us lots of at home time, this seemed to be the year.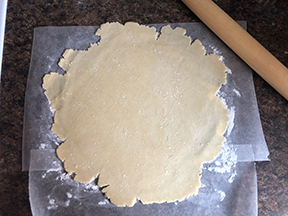 First step is to make a pie crust. I looked through three JLD cookbooks and found a few possible recipes. I chose Kathy Bubalo's Mom's Pie Crust (page 191 in The Best of Thymes). All I needed was a bowl, a wooden spoon, and the ingredients. A bit of stirring and I had dough. I taped together waxed paper, lightly floured it, and rolled out half of the dough.
It rolled out easily and I carefully pulled the waxed paper off the top, flipped it into the pie plate, and peeled off the other layer of waxed paper. It fell into the pie plate and didn't rip. None of the horror stories I've heard about pie crust happened!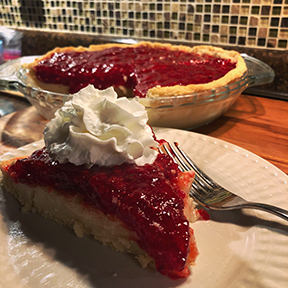 Since this was for Pi Day and Brian likes raspberries, I chose Kay Gower's Raspberry Cream Pie (page 197 in The Best of Thymes). This pie has a cooked custardy layer that is chilled until firm and topped with a gelatin/raspberry topping. I used frozen raspberries from last summer – YUM!
I froze the second crust and am looking forward to making another pie. Maybe Kay Gower's Chocolate Strata Pie, or Patricia Falls' Grapefruit Pie.
If there is ever another JLD cookbook, may I suggest some more double crust pie recipes?
Besides Pi Day, the other fabulously popular holiday in March is St. Urho's Day. I decided to try Sue M. Anderson's Five-Hour Beef Stew (page 252 in Thyme for all Seasons). On St. Urho's Day, this became our lihamojakka – (LEE-ha-moy-a-kah). This is a flavorful, rich beef stew and the only work is the chopping. Because we wanted this to celebrate Finnish heritage, I added lots of r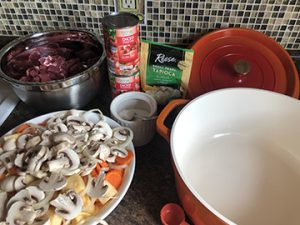 utabaga, plus carrots, onions, and mushrooms.
This is the easiest dinner you can imagine. Once the chopping was done, I tossed everything into a Dutch oven, no stirring required, and popped it in a 250° oven for 5 hours. That is 5 hours to read a book, knit a sweater, take a nap, clean the house, call a friend. The house smelled amazing. It reminded me of the wonderful smells from my mom's meals when I was growing up.