The 1970s: Focusing on Education & Advocacy
During the 1970s, the Junior League of Duluth extended its focus and maintained relationships and programming from previous decades. Members continued their involvement with the arts and with children's programming while also organizing the community to save the Depot from demolition and to consider the impact of the I-35 extension. The legacy of this work is written into the Duluth landscape.
This decade proved a challenging one for the Association more broadly. The authors of The Junior League: 100 years of Volunteer Service write, "The National Organization of Women (NOW) went straight for the heart of the Junior League movement and voluntarism, contending that women who volunteered were depressing wages and taking jobs away from people who needed them." (127) The Association of Junior Leagues responded with a renewed commitment to voluntarism and advocacy, noting experience in the League prepared members to take on leadership roles and offered invaluable employment training (128). Across the nation, this led to a focus on professionalism and management training. In the interviews conducted with Junior League of Duluth members over the last year, it is evident that their experiences with League proved invaluable as they continued their careers.
Educational programming was a focus of the Junior League of Duluth; the League hosted a conference on aging, worked with community partners to develop sexual abuse awareness programming for children in the Northland, and provided music classes in both Duluth and Superior schools. The JLD also created pamphlets for the several of the Duluth parks and trails including: Tischer, Congdon, Lester  Park,  Mission Creeks and Park Point.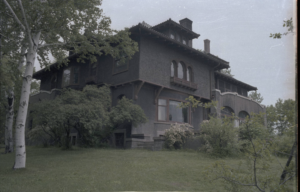 In addition, the JLD–along with the Ordean Foundation, ARC Duluth, and Rotary–provided much needed funds to Baldwin House which "meets the residential needs of teenagers and adults who were developmentally disabled." (DRCC info) DRCC continues to support 400 individuals throughout northeastern Minnesota. In addition, the League was involved with the Marty Mann House, "a residential drug and alcohol treatment facility for women." The house opened in 1972 and named for Mann who founded the National Committee for Education on Alcoholism in 1945, making her an early leader in advocacy and education. First located in the Duluth Hillside, the house is now at 2211 Greysolon Road in the Prindle house built in 1906.
In order to fund such a wide portfolio of initiatives, the JLD continued the Next-to-New Sale, the Tour of Historic Homes and Historic Buildings, as well as hosted the premiere of "You'll Like My Mother" a 1972 thriller starring Patty Duke and Rosemary Murphy; it was filmed at Glensheen.
Image credit: Shefchik, Thomas J., Jr., 1920-2002. 1975?. "Prindle House Facade Facing Greysolon, Duluth, Minnesota." University of Minnesota Duluth, Kathryn A. Martin Library, Northeast Minnesota Historical Collections, Accessed April 10, 2021. https://collection.mndigital.org/catalog/nemhc:4737